2020 Faculty Technology Showcase Presenters
This year's presenters come to us from a range of backgrounds, and from colleges across campus. They are representative of the College of Human Environmental Sciences, College of Arts and Sciences, College of Continuing Studies, College of Education, Capstone College of Nursing, Culverhouse College of Business, University Libraries, Office of Disability Services, and the SUPe Store.
About the Presenters
Dr. Kimberly Blitch is the program director of the early childhood education major in Human Development and Family Studies and a teacher educator in the program. She was an Innovation Scholar in 2019.
Stefanie Buckner
Stefanie Buckner has taught the UAEC 200 College Readiness Course at The University of Alabama for five years. She has led two major course revisions, collaborating with instructional designers to create a variety of course content including on-campus videos, screencast tutorials, Powtoon videos, and Storyline interactives.  Before working at UA, she taught high school English in Nashville, TN for seven years, and she has a passion for preparing students for both college-level work and the online learning environment.
Saad Bushaala, PhD
Dr. Saad Bushaala holds a PhD in Language and Literacy. He is an instructor of Arabic in the Department of Modern Languages and Classics.
Cory Callahan, PhD
After earning his PhD from Auburn University in 2009, Cory Callahan became a social studies education professor at the University of North Carolina, Wilmington. Now at The University of Alabama, Callahan's research interests include professional teaching knowledge, educative curriculum, wise-practice use of historical photographs, and the design of effective digital resources for social studies teaching and learning.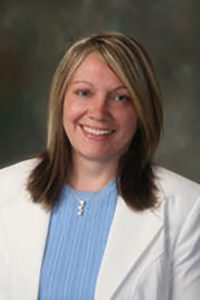 Heather Carter-Templeton, PhD
Heather Carter-Templeton (PhD, RN-BC) is an Associate Professor at the Capstone College of Nursing where she currently teaches at the graduate level. Heather has published and presented nationally and internationally related to her research interest areas of informatics, information literacy, and evidence-based practice. Heather is involved in a number of professional organizations and she serves as the Editor of the ANI Connection section of CIN: Computers, Informatics, Nursing journal.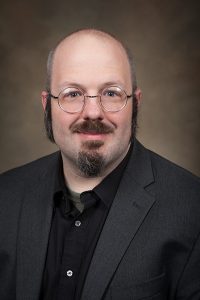 Jon Ezell
Jon Ezell is the Coordinator for Creative Media and Instructional Design at The University of Alabama Libraries. He works to support the Libraries' major instructional design initiatives and partnerships. He also supervises the Sanford Media Center, a state-of-the-art multimedia production, editing, and learning space in Gorgas Library. He earned his Ph. D. in Communication & Information Sciences from the University of Alabama in 2012.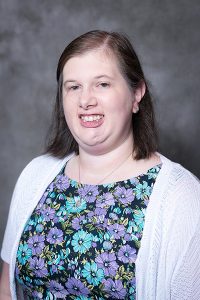 Laura Gentry
Laura M. Gentry is the Special Collections and Digital Initiatives Librarian at The University of Alabama Libraries. She holds a Bachelor of Arts in History and Secondary Education from Ouachita Baptist University, a Master of Arts in History from The University of Alabama, and a Master of Library and Information Science from Wayne State University.
Vanessa Goepel
Ms. Vanessa Goepel is the Director of UA's Office of Disability Services, the campus entity that regulates academic accommodations under the purview of the Provost's Office. She is a Licensed Professional Counselor Supervisor (LPC-S), a certified addictions specialist (ADC). She earned her B.A. in Psychology and Criminal Justice from The University of Alabama and her M.A. in Psychology from Pepperdine University in Los Angeles, California.
Ms. Goepel has 15 years' experience in program management, and began her career in post-secondary disability services in when she joined The University of Alabama in 2014. She serves on various campus committees as an expert in disability accommodations and the Americans with Disabilities Act (ADA). Most of her time is spent in program development and faculty outreach.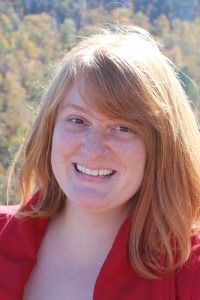 Melissa Green
Melissa Green is a teacher, librarian, technology enthusiast, and an IAAP Certified Professional in Accessibility Core Competencies (CPACC). A Technology Accessibility Specialist with The University of Alabama's Center for Instructional Technology, Melissa helps to ensure that technology users, including those with disabilities, have a functional and accessible technology experience with the university's web presence and instructional and emerging technologies.
Robyn Hammontree
Robyn Hammontree is a Senior Instructional Designer at The University of Alabama specializing in interactive technology. She works with instructors across campus to design online courses that are engaging, interactive and accessible. Prior to joining the team at UA, she worked for the Institute of Reading Development for five years as an Instructor, Teacher Supervisor and Curriculum Developer.
Tracy Hinton, PhD
Tracy Hinton is an instructor for the UAEC 200 College Readiness Course at The University of Alabama, which is the first class taken by high school students in the UA Early College program.  During the past year, she has been involved in a transformative course revision process that incorporates innovative instructional technologies to engage these high school-aged students.  Prior to this position, she taught Career Technologies and English at the middle and high school levels.  In addition, she worked as a K-12 Library Media Specialist and has presented at local, state, and national conferences.  Dr. Hinton's areas of study include K-12 technology integration, 21st Century Learning Skills, and student engagement and motivation in online learning.  She enjoys utilizing engaging instructional methods that help students to discover their passions and develop their College and Career Readiness skills.
Jennifer Humber, EdD
Janet Horace
Janet Horace, MA, is a doctoral candidate in the Experimental Psychology program. Janet's research focuses primarily on intragroup prejudice, biases, and racism among African Americans and how these factors affect their perceptions of other African Americans.
Marcy Koontz, PhD
Dr. Koontz received her PhD in Collections Management | Historic Costume & Textiles from Florida State University with concentrations in history, museum studies and college teaching. She was awarded the first Hope B. McCormick Fellowship in the Hope B. McCormick Costume Center at the Chicago History Museum. In Spring 2018, she was appointed curator of The Fashion Archive and her current research focuses on object-based material culture research in dress, curatorial practice, collections management, innovative exhibition design & presentation and emerging technologies.
Alison Lewis
Alison Lewis is a Senior Instructional Designer with the Instructional Technology and Academic Services Team in the College of Continuing Studies. She works with faculty in developing online courses for a variety of disciplines, curricular areas, and course formats, identifying ways to enhance course structure, student engagement, and delivery of content through best practices.
Nathan Loewen, PhD
Dr. Loewen is Assistant Professor in UA's Department of Religious Studies. His current research uses machine learning to data mine topics that globalize research in the philosophy of religion. In Fall 2019 he taught REL 502, the department's core course in digital humanities methods. This spring, he is teaching REL 490 "Artificial Intelligence and Religion."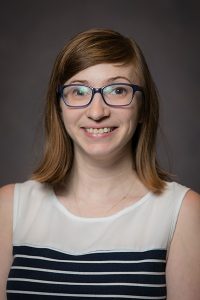 Anne Ladyem McDivitt, PhD
Anne Ladyem McDivitt is the Digital Humanities Librarian for the University of Alabama Libraries. She assists faculty and graduate students in creating digital projects at the University, as well as facilitating digital pedagogy in the form of tools and workshops. Her personal research is on the history of the video game industry in the 1970s and 1980s, with a particular interest in gender. She received her PhD in History with a minor in Digital History from George Mason University and her MA in Public History from the University of Central Florida. In her free time, she plays video games and co-hosts a podcast about video games, anime, and manga. You can follow her on Twitter @anneladyem or on her blog at anneladyem.com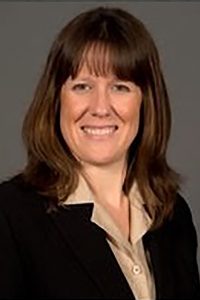 Shannon McMahon
Shannon McMahon is a 2018 Innovation Scholars. She currently works with the Nutrition by Distance program which offers a BS in HES with a major in Food and Nutrition.

Crystal Mealer
Crystal Mealer has master's degrees in Interactive Technology, Health Education, and Library & Information Studies. She currently serves as an Instructional Designer II in Instructional Technology and Academic Services in the College of Continuing Studies.
Jessica Mendoza
Jessica Mendoza, MA, is a doctoral candidate in the Experimental Psychology program. Jessica's research focuses on the implications of technology use in the context of memory, learning, and spatial memory.
Erin O'Rourke, PhD
Dr. O'Rourke is an Associate Professor of Spanish Linguistics in the Department of Modern Languages and Classics. Her research area is Language Variation and Change– how  Spanish develops under different linguistic and social conditions. She examines indigenous languages in contact with Spanish, such as Quechua in the Peruvian Andes, and looks at pronunciation development among bilinguals. Dr. O'Rourke teaches courses to help students observe changes in linguistic structure across dialects of Spanish.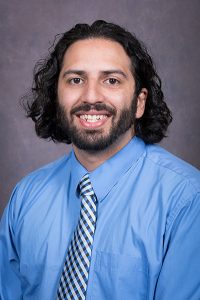 Josh Sahib
Josh Sahib is the Assistant Director of the Alabama Entrepreneurship Institute. In this role, he oversees much of the day-to-day operations for the EDGE Incubator and Accelerator. Additionally, he provides guidance to budding entrepreneurs from both the UA community and the broader West Alabama area. Josh has previously co-founded a few different startups, and he leverages that background to assist in growing the local entrepreneurial ecosystem.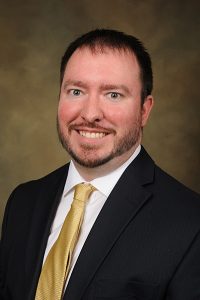 Keith Sims
Keith Sims is the Assistant Director of Course Materials at the SupeStore. He is heavily involved with digital course materials, especially with the Access Granted Program (RedShelf).
Kim Stran, PhD
Kim Stran is a 2018 Innovation Scholars. She currently works with the Nutrition by Distance program which offers a BS in HES with a major in Food and Nutrition.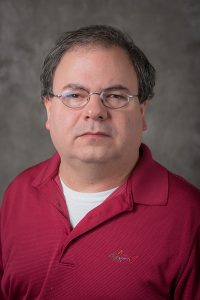 Marion Stevens
Marion Stevens is an Accommodations Specialist in the Office of Disability Services.  He earned his B.A. in Communication Arts from Spring Hill College, his M.A. in Public Communication from the University of South Alabama, and his Master of Library and Information Studies (MLIS) from The University of Alabama.  Prior to his current position, he was employed as an Assistive Technology Specialist at ODS.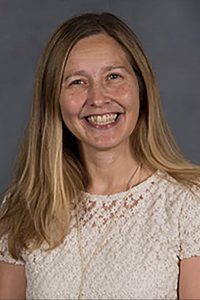 Amanda Thompson, PhD
Dr. Amanda J. Thompson is an associate professor in the Department of Clothing, Textiles and Interior Design at The University of Alabama. Her research interests include historic and archaeological textile analysis, textile science and cultural interpretation of textiles.
Darryl Thornton, DBA
Darryl Thornton, DBA, is an instructor in Human Environmental Sciences… teaching senior-level writing courses in volunteerism and another in self-managed mentorship, is the Coordinator for the CHES Compass Freshman Program, has developed two new courses for the college, including one online experiential service-learning course, and has re-done an additional online course. He is currently working on a PhD in Higher Ed Admin with a research focus in online course community development.