Instructional Technology News – August 18 – Welcome to Fall 2021 and Happy #FirstDayUA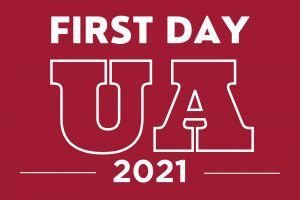 Dear instructors,
Welcome to the fall 2021 semester at The University of Alabama! Your colleagues here in The Center for Instructional Technology are available to help with your instructional technology and accessibility needs. We provide training, support, workshops, webinars and consultations for  UA's instructional technologies which include Blackboard Learn, Blackboard Collaborate Ultra, Flipgrid, Gradescope, Hypothesis, Panopto, People.ua.edu websites, Respondus, Turnitin, Turning mobile responseware and Zoom.
Learn more about each of these technologies on our website. A few noteworthy items to bring to your attention:
Blackboard Learn
In case you missed it, Blackboard Learn recently moved to the cloud! With the move came a new look, Blackboard Ultra Base Navigation. Ultra provides a new way to navigate course content that will save you time and help you stay on top of what's important. Visit our website to see highlights of Ultra Base Navigation. We ask your continued patience as we continue to work through Known Issues following the recent upgrade.
Panopto
Before a course will appear in your Panopto list of courses, you must provision that course for use with Panopto. You can provision your course by clicking on the "Course Videos" button that appears in your Blackboard course menu and following the setup instructions. We're happy to share that Automatic Speech Recognition (ASR) generated captions are now automatically added to Panopto videos. Accurate captions enhance learning and ensure access for all. Be sure to review and edit captions for accuracy.
Hypothesis
Following a successful pilot, Hypothesis is here to stay! Hypothesis is a collaborative annotation tool. It makes reading active, visible, and social, enabling students to engage with their texts, teachers, ideas, and each other in deeper, more meaningful ways. Visit our website for Hypothesis highlights and resources.
Gradescope
Gradescope is another tool recently adopted after a successful pilot. Gradescope can be used for evaluating handwritten responses, programming, diagrams, formulae, and other coursework that can be challenging to assess virtually. Additional information about Gradescope and steps for adding it to your Blackboard course are available on the CIT website.
Reach out for help.
We're here to help. You can reach us at cit@ua.edu or 205-348-3532. Join us at an upcoming webinar or schedule a consultation with us.
Want more updates from us? Subscribe to our news updates and follow us on Facebook, Twitter, and YouTube.
We wish you all the best this semester!