Blackboard Learn SaaS upgrade information – and a new way to navigate Blackboard Learn
Blackboard is moving to the cloud!
August 5 – 13, Blackboard Learn will be unavailable while UA's instance of Blackboard Learn moves from being hosted in Blackboard's data centers to being hosted in the cloud, also known as software as a service (SaaS). Moving UA's Blackboard Learn instance to SaaS allows for flexibility, scalability, resilience and innovation. Moving to SaaS also allows us to deploy Blackboard Ultra Base navigation, a new way to navigate and access your Blackboard Learn course content that will save you time and help you stay on top of what's most important. Although the look is new, the course features and workflows remain the same. You can learn more about the move on the CIT website: Blackboard Learn SaaS.
Here is some additional information about the move to Blackboard Learn SaaS and Blackboard Ultra Base navigation.
Why is Blackboard Learn SaaS being integrated so close to the start of the semester? Was an earlier time not doable for CIT?
The Blackboard Learn upgrade is occurring August 5 – 13. Because courses are offered throughout the summer, there are very few time windows that allow for system downtime, maintenance and upgrades.
If you take a look at the Academic Calendar, you'll see that spring 2021 courses ended May 4 with the final grade entry deadline at 11:59pm. Also, the Interim session began on May 3. There was no available time in the month of May where students and instructors were not using the Blackboard Learn system for active courses. Courses run through the summer, then the final grade entry for summer courses is August 3 at 11:59pm.
We certainly understand that there is no good time to bring down a critical system like Blackboard Learn, and we only plan for such downtime when the system is not in use for active courses.
Our teams will begin the upgrade on August 5 and work as efficiently as possible to bring the system back up by August 13 at the latest. The good news is that with this move to SaaS, the Blackboard Learn system will feature less long-term downtimes for maintenance and upgrades thanks to it being hosted in the cloud.
It looks like Blackboard will have a new UI with the update. Will this require professors/admin/users to be retrained with the new system?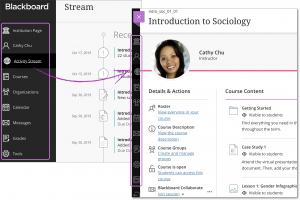 Moving to Blackboard SaaS allows for our team to implement Blackboard's Ultra Base Navigation. This offers a modern look that is more accessible and fully responsive. If you've used Blackboard Collaborate or the Blackboard Learn mobile app before, you've seen the Ultra look. Although the look is new, the course features and workflows remain the same, so there is little learning curve for instructors. There are, however, some new ways to navigate the Blackboard Learn environment that benefit both students and instructors.
Was UA involved in any of the new features? Is there anything being added that users have been asking for?
By surfacing information from all your courses in one place, Ultra provides a new way to navigate course content that will save you time and help you stay on top of what's important. The personalized interface enables quick access to relevant information. It highlights what's new, what's due and offers insights into performance. Base Navigation works on your desktop, laptop, tablet, and phone, so your learning experience will be consistent across devices. The ability to access information across courses and a fully responsive, more accessible design are much-anticipated features that UA and other colleges and universities have been requesting for some time.
One of the new features is the ability to balance load. Were there ever any Blackboard outages last year due to overload?
We did not have load-related outages in the past year, largely because Blackboard doubled the number of servers allocated for UA's use when we moved to remote operations in March 2020. The move to SaaS hosting means that the vendor can manage server resources more dynamically without additional ongoing cost to UA.
What kind of new tutorials and guides will be released? When should we expect them?
Guides and tutorials are already available on the CIT website. We think these are especially helpful for instructors and students:
Base Navigation for Instructors
Base Navigation Video for Instructors
Base Navigation Guide for Instructors (PDF)
Base Navigation for Students
Base Navigation Video for Students
Base Navigation Guide for Students (PDF)
As we approach the August upgrade, we'll share additional information here and via our Blackboard Instructors and other mailing lists. If you haven't already, please subscribe to our news updates and follow us on Facebook, Twitter, and YouTube, where we regularly share updates and resources.