UA has designated many classrooms and meeting rooms as virtual learning spaces – areas where students can attend online class meetings while on campus.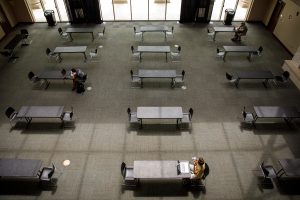 Rooms have been allocated across campus for students who may need a space to attend an online class while away from their residence. Each space features signage indicating the space's maximum occupancy, times available and rules for using the space.
---
Available Virtual Learning Spaces
View Available Spaces
---
Virtual Learning Space Etiquette
Several rules must be followed when using a virtual learning space.
Use available disinfecting wipes to clean work surface.
Masks are required at all times.
Students must wear earbuds or headphones while viewing/listening/streaming content.
Adhere to social distancing requirements by only occupying the seats indicated as available.
When you leave, remember to take all items with you that you brought into the space.
Be flexible/prepared to move to a different room if the space transitions from a virtual learning space to a classroom for face-to-face learning.  Also be prepared to move if custodians or maintenance staff need to access the room.
---
FAQs
Are virtual learning spaces available 24/7?
No, schedules vary per building. The schedule shows a current schedule for each week, with minor changes anticipated each week.
Do I have to wear earbuds in virtual learning spaces?
Yes. Because students in virtual learning spaces will be attending live, online courses, the room could become quite noisy and distracting. Please be courteous to fellow online learners and bring your own earbuds or headphones with you to the virtual learning space.
How can I find virtual learning spaces?
View our list of available virtual learning spaces.
How many virtual learning spaces are there on campus?
It changes each semester based on classroom space availability.