Tegrity allows you to create recordings of presentations using almost any computer. Tegrity recordings can be stored, searched, and replayed by students.
Quickstart Guide for Classroom Computers
Recording a Tegrity Session
Working With Recorded Presentations
Annotation Tools
Tegrity Course Tasks
---
Quickstart Guide for Classroom Computers
Many of the University of Alabama's classrooms have Tegrity already installed on their podium PCs. By having Tegrity already installed and configured on classroom computers, faculty can record their lectures and post them to their Blackboard courses with just a few clicks. Note: This tutorial explains basic recording on PCs. While this process will differ on Mac computers, much of the functionality is the same.
To see if your classroom already has Tegrity installed, look for a blue circle icon at the bottom right of your screen.

If you would like to use Tegrity in your classroom, but find that it is not installed on the classroom computer, contact your area's classroom technology support group.
Double-click the icon to login to Tegrity. Your username and password for Tegrity is the same as the your username and password for MyBama and Blackboard.
Once you have logged in, select your course from the Course dropdown menu, adjust the input volume of your voice, and then click Record a Class.
Once you begin recording, the recording controls (stop, pause) will appear at the bottom right of your computer screen. Once your lecture is over, click the Stop button.
At this point, Tegrity will ask if you would like to upload the recording to your course. If you would like for your students to see what you just recorded, click Yes and your recording will automatically be uploaded to Tegrity and associated with the course that you selected in step 3.
You and your students will be able to view your Tegrity recordings through the Tegrity Classes button that is found on the left side of all Blackboard Learn courses.
---
Recording a Tegrity Session
Click on the Tegrity Classes link on the left side of your Blackboard Learn Course.

If there is no Tegrity Classes link in your course and you are instructor or course builder, click on the plus sign above the top left corner of the Course Menu.
Select Tool Link. Type "Tegrity Classes" in the Name field.
Select Tegrity Lecture Capture from the Type dropdown menu.
Check the box next to Available to Users. Click submit.

Click the large Start a Recording button in the upper right portion of the Tegrity Window. If you do not already have Tegrity installed you will be asked to download and install the Tegrity recorder. Once your computer is ready for a Tegrity recording, the Tegrity recorder will appear on screen.
If you would like to change the course that will contain your recording, click on the drop-down arrow next to the Course field and select the appropriate course. If you would like to change the title of the recording, delete the existing text and type a new title in the title field.
If you would like to include a picture along with your Tegrity recording, click Select Picture, then click Browse to locate the file that you would like to use as the picture. If you would prefer to include a video of yourself instead of a still picture, click the checkbox next to Instructor Video. The Instructor Video option will allow you to include a video of yourself in the recorded version of your presentation.
If you would like to test your computer's audio input before creating your Tegrity recording, click the Tegrity recorder's Test Audio button.
Note: Mac audio levels are controlled through the Mac's System Preferences.

Make sure you have a headset or microphone attached to your computer. Click Start Test and speak into the microphone. When you are finished with your recording, click Stop Test.
To review your recording, click Play Test.
When you are satisfied with the audio, click Close.

If you are including an instructor video and would like to change your video input device, click Settings. Click on the drop-down arrow next to the Default Audio Source field and select the audio device that you would like to use to record your audio. Note: You may be able to select from several devices depending on the equipment that is attached to your computer.

If you are including an instructor video and have multiple devices capable of capturing video connected to your computer, click on the drop-down box to under the Video Settings button and choose the device that you would like to use.
Click Settings to make adjustments specific to the video recording device you have selected.

Once you have returned to the original Tegrity recording window, click the Record a Class button.

Once the "Recording will start momentarily…" message disappears, the recording session will begin.
When you are finished recording, click the Stop button in the Tegrity toolbar.
You will be presented with a pop-up window that will allow you to:

Upload your recorded session to the Tegrity server for student viewing.
Preview your recorded session before choosing to upload or delete the session.
Delete the recorded session.

Click Yes when you have made your selection.
Note: Once you have chosen to upload your presentation, it may take some time before it will appear in your list of recorded sessions.
---
Working With Recorded Presentations
Once your recording has been uploaded, you can access it either through the Tegrity Classes link on the left side of your Blackboard course, or by logging in at ua.tegrity.com and selecting the course that is associated with your recording. The Tegrity presentations that you have recorded will appear in a list that can be managed using the Recording Tasks menu located on your Tegrity course page.
To perform any of the available actions on a recorded presentation:
Click the checkbox next to a recording to select the presentation(s). Note: Some actions can only be performed if a single presentation is selected.
Click on the Recording Tasks button to reveal the available operations.

Select Move to remove a recording from your currently visible course and add it to another.
Select Copy to add the selected recording to another course while retaining it in your currently visible course.
Select Delete to permanently remove a recording from your course.
The Publish option can be used to control which recordings will be accessible by students.
Users can group and label recordings using the Tag option.
Upload to YouTube allows you to upload a selected recording to your YouTube account.
Selecting Edit Recording will display the Tegrity editor which will give you access to several editing options such as removing segments of recordings and adding searchable keywords. To learn more about editing, please see Tegrity Editing.
The Edit Recording Properties window will allow you to change the title and date associated with a recording.
Share Recording will allow you to create a direct link to a recording.
Download Recording will allow you download a copy of a recording to your personal computer.
---
Annotation Tools
Tegrity's annotation tools allow you to add annotations (lines, highlights, shapes, etc.) to your presentation as it is being recorded.
To use the annotations tools, while you are recording, click the arrow button   to expand the annotation options.
Click the Select Annotation Tool icon to reveal the available annotation tools.

The Pen tool is used to create freehand drawings.
The Rectangle tool is used to draw square outlines.
The Oval tool is used to create round outlines.
The Line tool is used to draw straight lines.

Click to select the tool that you wish to use.

To change the thickness of lines or outlines, click the button with three stacked lines and select the desired thickness from the available choices.
To change the color of lines or outlines, click the button with three colored cirlces and select the color that you want to use.

The annotation tools will allow you to draw anywhere on your screen. To erase all or any part of the annotations, use the following tools:

Use the Erase All tool to erase all of the annotations currently on your screen.
Click on the Eraser tool and then click on any visible annotation to remove it.
To erase multiple objects, select them using the Lasso tool, then click on the Eraser tool.
---
Tegrity Course Tasks
Tegrity's course tasks gives users various options for viewing and controlling content in individual courses. To access these options, click on the Course Tasks menu from your Tegrity course page.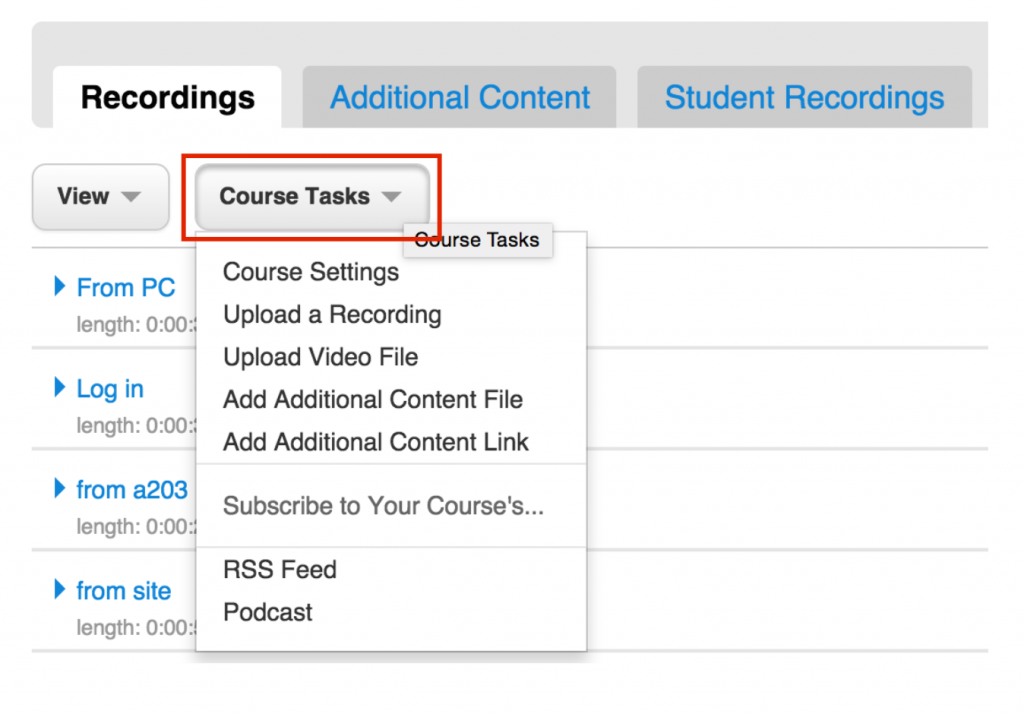 Course Settings
To access various options for how Tegrity content is created and distributed, click on Course Settings from inside the Course Tasks menu.
Enable Minute Counter will allow you to display a simple timer while you are creating a recording. This timer can help to create recordings of specific lengths.
When Allow Students to Record is selected, students will have the option of creating their own recordings that will appear under the Student Recording tab of your Tegrity course homepage.
Publish Recordings After Upload, when selected, will allow students to see recordings immediately after they are uploaded. Deselecting this option will require instructors to individually release recordings to students.
The Automatically Publish Student Recordings option allows instructors to determine whether or not students can see each other's recordings. Unpublished recordings are visible only to the author of the recording and course instructors.
By default, Direct Links to recordings require viewers to log in to the Tegrity system thereby only allowing users to view content in courses for which they are enrolled. Direct links that do not require users to log in can be used by anyone with Internet access regardless of their affiliation with the University of Alabama.
Make This Course Publicly Visible and Gradebook Integration are not currently supported at UA.
Allow Students to Download Recordings gives students the option to download recordings to their computers for offline viewing.
Enable MP3 Podcast will allow students to subscribe to an audio version of your recordings.
Enable Video Podcast will allow students to subscribe to podcasts that include full motion video.
Students can view recordings on their iOS and Android devices if Enable Streaming to iOS and Android Apps is selected prior to the creation of the recording. This setting is not retroactive.
Enable RSS Feed allows viewers to subscribe to an RSS feed of Tegrity course content.
Disable Student Printing prevents students from printing slides of recorded lectures.
Enable Audio Search is currently not in use at UA.
Enable Webcast gives the instructor the option of streaming a lecture live as it is being recorded.
Post Recordings to Twitter allows instructors to link recordings to their Twitter accounts.

The Upload a Recording option allows users to upload previously created recordings.
The Upload Video File option allows instructors to upload externally made video content to Tegrity. These videos will appear in the Recordings tab and will play in the Tegrity player. Below is a list of video types that are currently compatible with the Tegrity player:

Flash Video Fi les (*.flv)
Movie Files (*.mpeg, *.mpg)
MP4 Files (*.mp4 ,*.m4v, *.mp4v, *.3gp, *.3gpp)
QuickTime Movie Files (*.mov)
Windows Media Files (*.asf, *.wmv)
Windows Video Files (*.avi)

The Add Additional Content File option allows users to upload files of any type to Tegrity. These files will appear in the Additional Content tab and will be available for download by users enrolled in your course.
The Add Additional Content Link option will allow you to add links to webpages to your Tegrity course page. These links will appear under the Additional Content tab.
The RSS Feed option allows users to subscribe to an RSS feed alerting them when new content is added to your Tegrity course.
The Podcast option allows users to subscribe to a podcast version of your course. Students subscribed to your course using this option will be able to download a podcast of your recordings via iTunes.