Flipgrid is replacing VoiceThread as UA's video discussion tool
Flipgrid offers a modern, fun, and accessible video discussion option for UA instructors and students, ideal for engaging students asynchronously. Flipgrid can be embedded in a Blackboard course or viewed from a browser or the Flipgrid app. Students, faculty, and staff have free access to Flipgrid through their Microsoft O365 license.
Effective for the Fall 2021 semester, VoiceThread will no longer be available to UA students, faculty or staff. If you previously used VoiceThread for recorded lectures, you can export that content and upload into Panopto, then share it as a link in Flipgrid.
Get Started with Flipgrid
See what Flipgrid is all about! Check out the video below and visit Flipgrid's getting started webpage.
---
Create Your Account
To get started, visit flipgrid.com and click the Educator Sign up button.
Students, faculty and staff can login with their Microsoft O365 account.
Enter your myBamausername@ua.edu email address or Crimson email address and password to sign in.
A step-by-step guide with more information on how to create an account, create groups and topics, and record video is available. Flipgrid works on almost any device with a camera. See the full list and specs.
---
Make the switch! Export content from VoiceThread.
Register to attend a workshop to learn more about Flipgrid. 
Embed Flipgrid into your Blackboard Learn course
---
Flipgrid Overview
A great video tutorial from EdTech Cafe explains all you need to know to get started using Flipgrid today!
Groups and Topics
Groups allows you to organize Topics under one Join Code, so your learners have access to all the Topics you've put into that Group. Think of a Group as a class, ie BIO 101, ENG 102. Think of Topics as the Assignments within the Group.
Topics are your questions, reflections or assignments for a discussion.  Simply create a Topic, set Permissions, and share with your community.
Instructors create Topics and Groups to invite students, peers, families, and communities to participate in Flipgrid. ​Visit the Flipgrid website for step-by-step instructions on how students can join Topics and Groups.
---
Flipgrid Pre-recorded Tutorial for Instructors
Recorded on August 16, 2021, Flipgrid's own Ann  Kozma explores all the new features inside Flipgrid and how to level up the ways your scholars communicate and share their learning. From designing creative content, to empowering accessibility tools, to sharing with authentic audiences, Flipgrid provides endless pathways for students to share, celebrate and showcase their unique voice.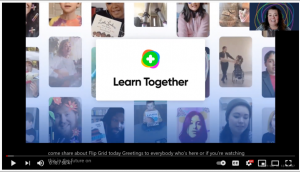 ---
Creating Flipgrid Recordings
The Flipgrid Camera Features and Effects – The camera allows students to share their voices and ideas creatively using a variety of features.
Creators Guide to Flipgrid Camera – Quick videos walking through Flipgrid camera options
Import or Upload a video to Flipgrid
Record a Presentation with Screen Recording – Record presentations using other programs with Flipgrid's screen recorder feature. Just record your screen, narrate, and submit to Flipgrid!
Record Audio Only Videos – Mic Only mode allows users to create Flipgrids without recording video. You can still add effects like emojis and frames, as you would in a normal video.
Record Without Audio – Record video without audio to eliminate distracting background noise, such as if you're using on-screen cues instead of voice narration.
Attach Files, Articles and More – Add a link to your response on the final step of the recording process to share a document stored in the cloud, a website, or article.
---
Manage Video Responses and Comments
Replying with a Text Comment – Instructors can post text comments publicly to share with the class or post privately for personal feedback to the learner.
Activity Dashboard – Manage all video responses and comments that have been posted to any of your topics.
Privacy Features – Every group, topic, and video response has a Join Code and Link. You decide who you share the Join Code or Link with. Learn more about codes, permissions, and moderation.
---
Download Apps
Flipgrid has apps available for iOS, Android and Chrome.
---
Additional Support
Troubleshooting for Instructors
Flipgrid Support
---
Flipgrid Resources for Students
Flipgrid has tutorials and guidance to help students understand and use Flipgrid.