Instructional Technology News – September 14
Attend Adobe Day, tweak your Blackboard Learn notifications, get started with Gradescope and Hypothesis, and more.
Adobe Day
Make plans to attend Adobe Day on Friday, September 17, in Gorgas Library. Guest presenters and panelists from across campus will dive into new Adobe offerings that utilize some of the most exciting trends in emerging technology: interactive design, on-the-go video storytelling, and more. Adobe Creative Cloud is available to all UA students, faculty, and staff.
Blackboard Learn
Notifications when and where you need them
In case you missed it, Blackboard Learn recently moved to the cloud! With the move came a new look and feature set, Blackboard Ultra Base Navigation. One of our favorite things about the new way to interact with Blackboard content is the Activity Stream, which captures activity across all your courses. The Activity Stream page is also where you can specify the types of activities for which you'd like to receive notifications (institution announcements, new messages, new gradable items, etc.) and how the notifications are delivered (Activity Stream page, email, SMS, push).
myBama logout troubleshooting
If you are getting logged out of Blackboard Learn when you access it via myBama, try closing the myBama tab after accessing Learn or logging into Blackboard Learn directly.
Heard about Hypothesis?
Whether you're teaching with digital texts, news, blogs, journal articles, legislation, or other digital documents, you and your students can use Hypothesis to annotate course readings collaboratively.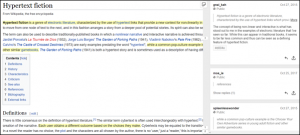 Students in an edX course using Hypothesis to annotate a Wikipedia page
Here are some resources to help you get started with Hypothesis:
Getting started with Gradescope
Gradescope helps you administer and grade all of your assessments, whether on paper, online, or both. Using Gradescope, instructors can apply detailed feedback with just one click; make rubric changes that apply to previously graded work; see question and rubric-level statistics to understand better what students know; and easily export grades and data. In addition, Gradescope works well for various answer types: paragraphs, proofs, diagrams, fill-in-the-blanks, multiple-choice and more.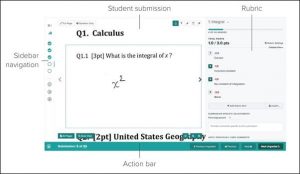 Gradescope grading interface for a sample question and submission, showing the student submission on the left, the rubric on the right, and navigation actions at the bottom
Visit our website for additional information about Gradescope and steps for adding it to your Blackboard course.
Voicethread is out, Flipgrid is in
UA has transitioned to Flipgrid as our video discussion and collaboration tool. Flipgrid offers a modern, fun, and accessible video discussion option for UA instructors and students, ideal for engaging students asynchronously. If you previously used VoiceThread for recorded lectures, you can export that content, upload it into Panopto, then share it as a link in Flipgrid:  How to Export VoiceThread Content
We're here to help
Your colleagues in The Center for Instructional Technology provide training, support, workshops, webinars, and consultations for UA's instructional technologies and technology accessibility. You can reach us at cit@ua.edu or 205-348-3532. Join us at an upcoming webinar or schedule a consultation with us.
Want more updates from us? Subscribe to our news updates and follow us on Facebook, Twitter, and YouTube.